We are the birthplace of forward-thinking business leaders, setting their eyes on innovation and results. This is where we produce difference makers that shape businesses, non-profits, government, and eventually the world. It's what built Warrington into one of the most respected business schools in the country.
Determination brought us to this point, and it's what leads us into the future.
id="we-are-warrington"
We are Warrington
Performance beyond measure
---
Students
Business Gators are guaranteed to be difference makers
---
Undergrad
Master's
Ph.D.
DBA
Student Population: 6,832
Warrington students are prepared to make an immediate impact in their internships and full-time jobs. With career concepts intentionally injected across the Warrington campus, students know what to expect in their jobs and how to stand out in the real world.
Rankings
Internationally renowned business education
---
Faculty & Research
The top minds in business
---
Distinguished Professors
Joe Alba
James W. Walter Eminent Scholar Chair, Marketing
One of only six scholars to hold Fellow status in the Association for Consumer Research, American Psychological Association, and the Society for Consumer Psychology.
---
Mark Flannery
Bank of America Eminent Scholar Chair, Finance
Recently served as Chief Economist at the U.S. Securities and Exchange Commission (SEC).
---
Jay Ritter
Joe B. Cordell Eminent Scholar Chair, Finance
One of the leading academic authorities on initial public offerings (IPOs), and routinely appears on the most popular cable business networks.
---
Scholarly Impact
Academic Analytics ranks Warrington faculty research activity among the highest in the Association of American Universities (AAU).
Alumni
Our alumni make their mark on the world
---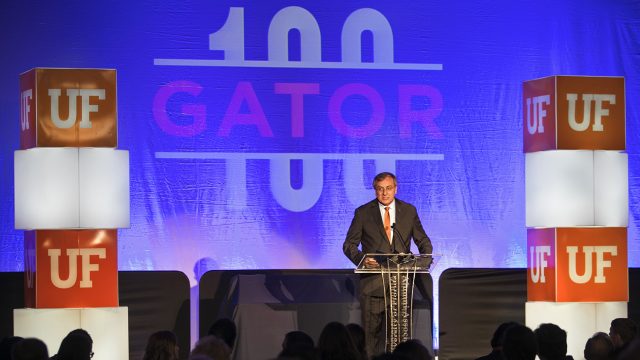 Warrington entrepreneurs honored at fourth annual Gator100
The University of Florida's Gator100 event honors the 100 fastest-growing Gator-owned or Gator-led businesses in the world.
Thirty-four of the 100 companies honored on the list are led or owned by Warrington alumni. Since the Gator100 was founded in 2015, more than 150 companies led or owned by Warrington alumni have been included on the Gator100.
---
Involvement with tens of thousands of Warrington alumni across the globe gives you a foundation to push the limits and make your mark on the business world.
Career Services
Tomorrow's job starts today
---
Companies hiring Warrington graduates
Go Global
Warrington students have their eyes set on the world
---
Asia
→ China
→ Korea
→ Singapore
→ Taiwan
→ Thailand
Australia
→ Sydney
Europe
→ Austria
→ Denmark
→ England
→ Finland
→ France
→ Germany
→ Italy
→ Netherlands
→ Norway
→ Portugal
→ Spain
→ Turkey
South America
→ Chile
→ Peru
Entrepreneurship
Teach, Coach, Inspire
---
Featured programming and community outreach