Korea University Business School
Seoul, South Korea
Founded in 1905, Korea University Business School was the first business school established in South Korea. Because of the school's leadership and innovation in management education, KUBS has indisputably become the most prestigious business school in the country. The teaching and research facilities at KUBS are cutting edge, and parallel the facilities found in top business schools around the world. KUBS is located in the capital city of Seoul, where students can experience Korea's rich history and culture. Seoul is Asia's largest and most culturally diverse city, offering the perfect environment for students to broaden their knowledge and understanding of the Korean business environment, society, and culture.
Please note: students are not accepted into the program until they submit their application and deposit to the UF International Center. You can start your online application today!
The City
Seoul is a city rich in history and tradition. The city was founded in 1392 when it became the capital of the Chosun Dynasty, which fell in 1910. It is now the capital city of South Korea, and traces of the former dynasty are still very much a part of the city's landscape. Seoul is the center of political, social, educational, and economic activity in Korea and is home to many major international corporations. Over the past 60 years South Korea has achieved astounding economic growth, becoming the world's 5th largest exporter and 7th largest importer. The blend of tradition and digital technologies create a fascinating city environment. Seoul is home to endless street food vendors, vast nightlight and shopping districts, urban parks, a few hiking trails and eye-catching architecture. The subway has a total of 17 lines, making the city and its suburbs easily accessible.
Student Life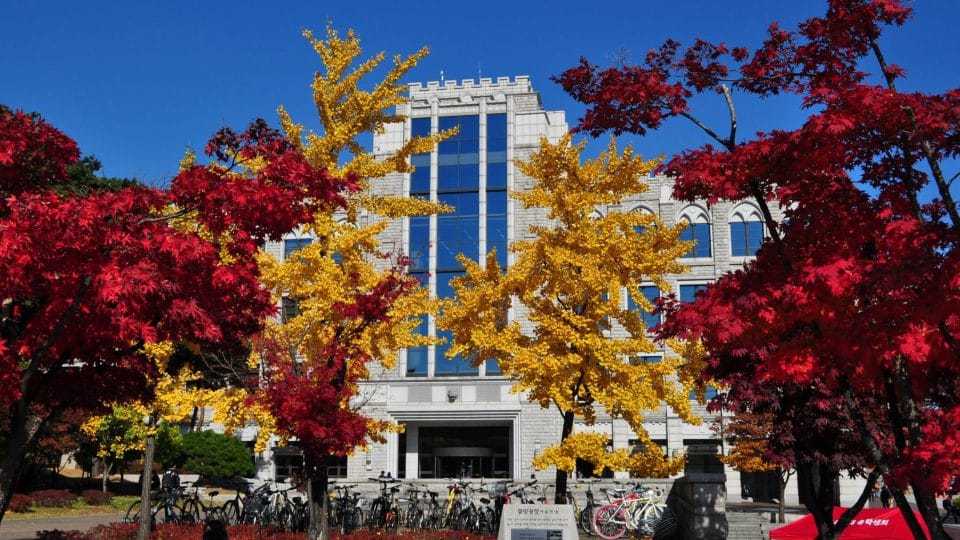 In addition to the excellent academic and recreational facilities offered at KUBS, there are many student clubs available, and international students are encouraged to get involved. KUBS Student Services overs a number of special activities for international students and also coordinate a buddy program. Daehangno, meaning "the street of youth," is found in the heart of the city and offers many affordable restaurants, shops, and clubs for young people to enjoy. Other popular student hubs are Hongdae, Sincheon, Itaewon and Gangnam. The nightlife in Seoul is vibrant and many cultural festivals are offered in the city throughout the year. Seoul is a very large city and there are innumerable historic, cultural, and social activities for students to explore during their free time. Thanks to an excellent transportation system, and a group-oriented mindset, it is common for students to travel in groups together to mountains, beaches and nearby islands.
---
All of my (KUBS) teachers, with one exception, spoke English incredibly well. All the text books and course materials are in English and are from American textbook companies so… you still have many other resources to use. The courses were very interesting and the small live classes made it easy to connect with the professor and contribute to discussions.

I traveled to different parts of Seoul as well as different parts of Korea such as Jeju Island, Busan, Gwangju, and several others. Transportation is pretty cheap and its easy to get around with the subway because all the signs are in Korean and English.

Attending Korea University was one of the best decisions of my life. Not only did I learn about Korean culture and interact with Korean students, but there is also a large number of international students (about 600) from all over the world that attend KU and I learned much from them as well.
Stephanie
UF participant on the KUBS exchange program, fall 2011
---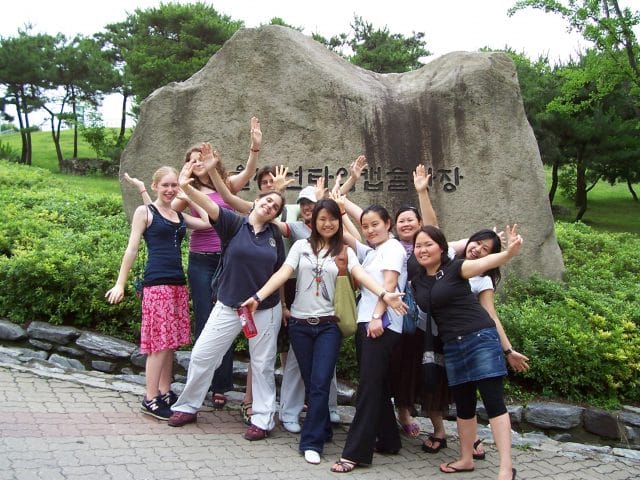 Term Dates
Fall Semester: Early September to mid-December
Spring Semester: Early March to mid-June
Courses Available
KUBS offers a variety of business courses for students to choose from. (On the linked page, find the English tab in the top left corner.)
Use our course equivalency database to find out which courses at KUBS can apply to your UF degree. Please see an academic advisor for information pertaining to requesting additional equivalencies.
Language of Instruction
Courses are taught in English or Korean. UF students are able to take a full load of business courses in English.
Grade Conversion
KUBS uses a similar letter and number grading system as UF. Please review the detailed table.
Credit Conversion
KUBS credit system parallels UF's credit system. For example, if you take a 3-credit course at KUBS, you will receive 3 hours of credit at UF.
Estimated Expenses
| Rough Expense Comparison | Semester at UF | Semester at KUBS |
| --- | --- | --- |
| UF Tuition | $3,190 | $3,190 |
| UFIC Admin. Fee | - | $375 |
| Health Insurance | - | $190 |
| Airfare | - | $1,600 |
| Housing / Utilities | $2,720 | $2,000 |
| Internet / Cable | $625 | Included |
| Food | $2,235 | $2,000 |
| Books | $605 | $300 |
| Transportation | $550 | $300 |
| Visa | - | $45 |
| Total | $9,925 | $10,000 |
Currency
South Korean Won (KRW).
Accommodation
KUBS can arrange on-campus housing for exchange students in one of the two special international dorms. Students can also arrange their own housing or find a homestay using the resources available on the KUBS website.
Travel Opportunities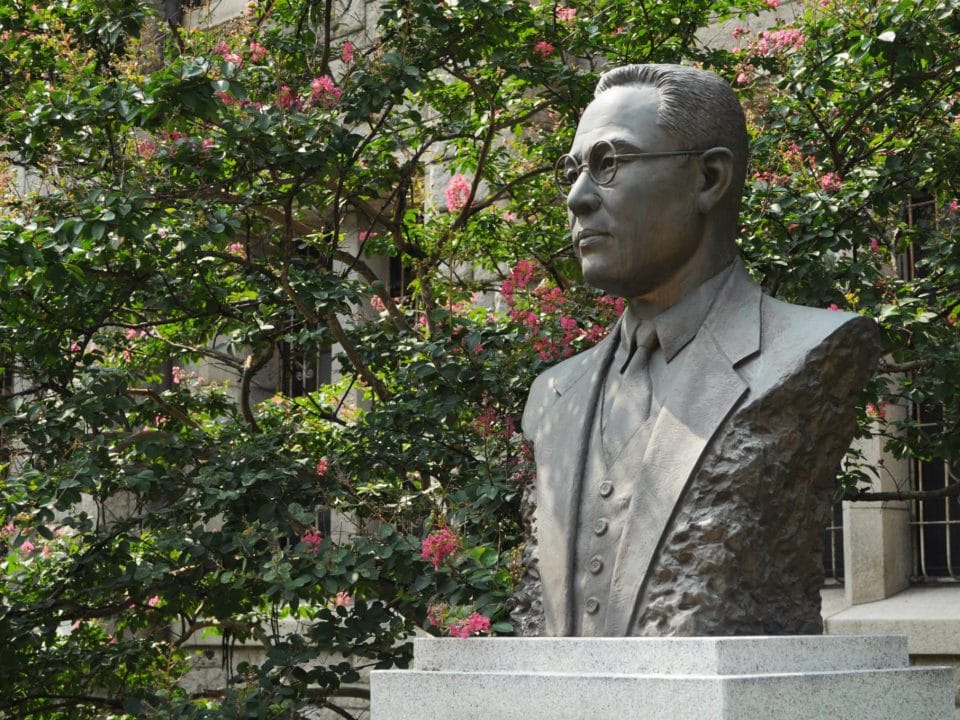 South Korea is located on a peninsula, and is surrounded by the beautiful Pacific Ocean. Japan is just across the East Sea, and is accessible by ferry or a short flight. Students are free to fly to other destinations while abroad, though most students find traveling around South Korea easy, affordable and fun. Taking a ferry from nearby Incheon to one of the numerous islands is a great weekend adventure! Each season brings a new line up of festivals and ideal destinations like the Hwacheon Sancheoneo Ice Festival or Jindo Miracle Sea Parting Festival. Some students choose to spent their weekend away at a Buddhist temple stay, on the slopes of a ski resort or a beach town like Busan. Although South Korea is a small country, the diversity in landscape and local foods make each destination a special memory.
Useful Location Websites