PURC Annual Conference
for Utility Service Providers, Policy Makers, and Regulators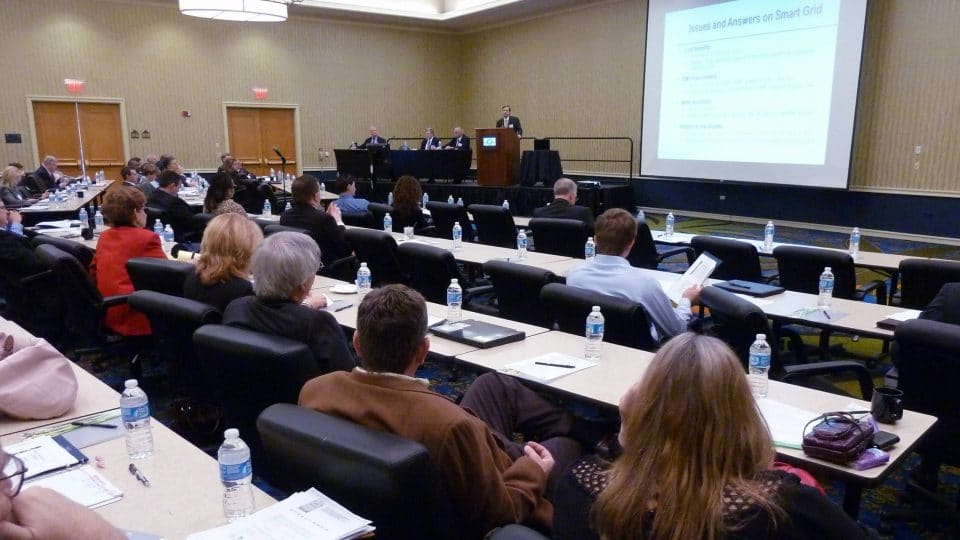 47th Annual PURC Conference - Rates, Realities and Risks: Ratemaking for Tomorrow
February 19 – 20, 2020
Schedule at-a-glance
Gainesville, Florida
When the world around us changes, sometimes the best practices that used to work are called into question. The U.S. has tried and true methods for regulating utility prices. They were developed to ensure that needed utility investments would be made, that customers would be protected, and that all voices would be heard. Have circumstances changed in ways that important goals are impeded by our current modes of regulation?
Both utilities and customers are trying and adopting new technologies. Do the incentives align with our regulatory objectives? Are risks, rewards, and losses in proper alignment? Some people are concerned that diminishing returns on investments in energy efficiency are making it hard to find efficiency gains. Should we rethink these policies? Long-term financial viability of water systems remains a challenge. What holds us back from investment-inducing ratemaking?
Please join us for the 47th PURC annual conference, February 19 – 20, 2020, when speakers and the audience will tackle these questions:
· Is our ratemaking system completely broken, in need of tweaking, or just right?
· Will we make the investments needed today to have the water and energy systems we need for the future?
· What are the challenges and options for providing power for electric vehicles and what are the implications of those options for ratemaking?
· Is our regulatory system encouraging utilities to make the best investments for the future?
· Are customers being provided with the price signals that they need to consume energy and water most efficiently?
· What are the recurring proposed constitutional amendments telling us about Florida's utility markets, potential economic interests, and consumers' perceptions?
· What would next generation energy efficiency look like?
The conference is hosted at the Hilton University of Florida – 1714 SW 34th Street, Gainesville, Florida. Registration opens at 1pm on Wednesday and the conference concludes following lunch on Thursday. A discounted guestroom rate, $149 plus tax per night, is available for conference attendees. Reserve your room online or by calling reservations at (352) 371-3600. Group code is PURC20. Reservations must be made by January 22, 2020 to secure the discounted rate.
PURC is registered with the Florida Department of Business and Professional Regulation as a provider of continuing professional educations programs. Each year, we apply to the DBPR for technical business CPE credit for conference sessions, as well as to the Florida Bar for general CLER credit for Florida law practitioners.
---
PURC Distinguished Service Award
Each year at the PURC Annual Conference, PURC honors an individual who has contributed to the understanding of regulatory economics and finance. The PURC Distinguished Service Award recognizes the cumulative impact of an individual's research and policy analyses on both the academic community and regulatory policymakers.
Gerald L. Gunter Distinguished Service Award
The Gerald L. Gunter Distinguished Service Award is presented jointly at our Annual Conference by PURC and the Florida Public Service Commission. It recognizes a Public Service Commission employee who has made a significant contribution to the development of regulatory policy.
The award is named after the late FPSC Commissioner Gerald L. Gunter, who was especially supportive of the relationship between the University and the Florida PSC. After his death in June 1991, the Gerald L. Gunter Memorial was established by his friends and colleagues. In addition to the Gunter Award, financial gifts enabled the establishment of the Gunter Professorship in the Warrington College of Business. Mark Jamison serves as the Gerald L. Gunter Professor of research in regulatory policy.
2019: Mark Cicchetti
2018: Patti Daniel
2017: Rick Moses
2016: Jim Breman
2015: Mary Anne Helton
2014: Greg Shafer
2013: Andrew Maurey
2012: Tom Ballinger
2011: Robert J. Casey
2010: Kathy Welch
2009: Mark Futrell
2008: David Smith
2007: Connie S. Kummer
2006: Cheryl Bulecza-Banks
2005: Marshall Willis
2004: Tim Devlin
2003: James A. Ward
2002: Lisa Harvey
2001: David Dowds
2000: Sally Simmons
1999: J. Alan Taylor
1998: Dale Mailhot
1997: Bob Trapp
1996: Cindy Miller
1995: John Williams
1994: Beth Salak
1993: Joe McCormick
1992: Jill Butler