UF in Beijing Internship: Chinese Commerce & Culture
Apply now for Summer 19
Welcome to Beijing (北京)! The home of the Forbidden City, Peking Opera, the Great Wall, and the capital of a nation positioned to be the world's next super power. The UF in Beijing internship program offers students a unique opportunity to learn about China's commerce and culture while completing a business internship at a Chinese company in the capital city of Beijing. Students who participate in this program will gain valuable industry experience related to their major, learn some basic Mandarin language skills, develop professional skills, network with business professionals in China, and learn about what it is like to work in a multinational and multicultural setting.
Chinese language skills are not required.
Please note: students are not accepted into the program until they submit their application and deposit to the UF International Center. You can start your online application today!
The City: Beijing, China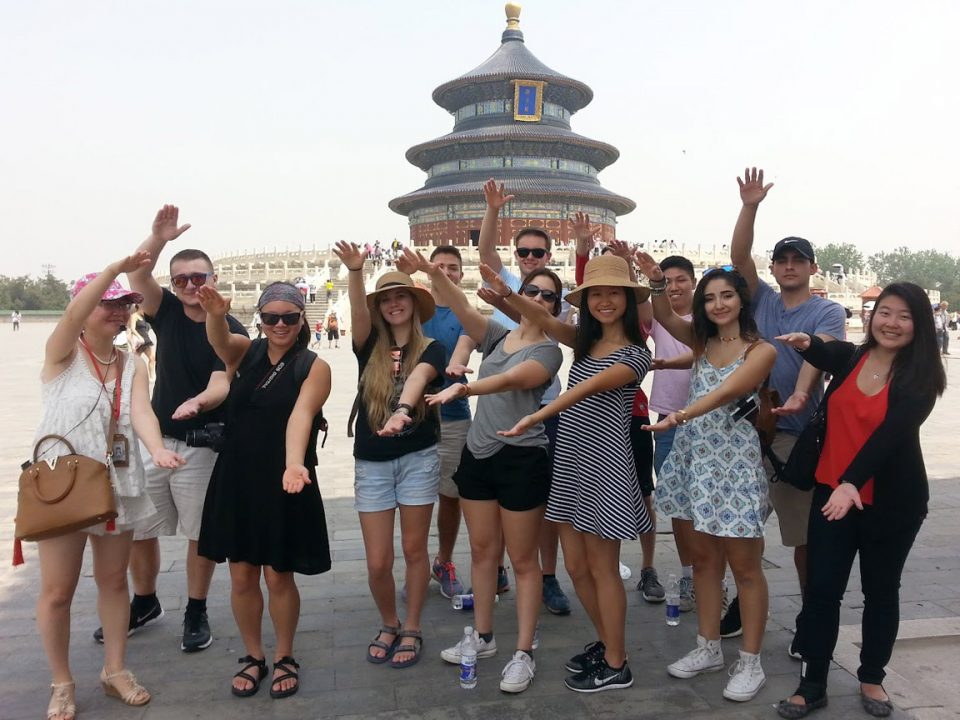 Beijing's 北京 growing importance in the world is difficult to overstate. An on-again, off-again capital of China since the Yuan Dynasty, Beijing has seen it all and emerged confident and relatively unscathed by the destruction that plagued many other Chinese cities. Translated as "Northern Capital," Beijing has just under 20 million residents from all over China and around the world. In addition to being the political capital of China, Beijing is also China's cultural capital. It is the home of Great Wall, Peking duck, the 2008 Summer Olympics, Peking Opera, and 5 UNESCO World Heritage sites.
Beijing is a city of contradictions. It is the seat of the Chinese Communist Party yet home to fifty-two companies in the Fortune Global 500. It is a stronghold of traditional Chinese heritage and yet the laboratory for China's most innovative thinkers. It is an international hub in the country with a distinctly Chinese flavor. While Beijing has seen significant up and downs in the past century, it is emerging as a prime mover that governs much of the direction of the world. Today, one can sit in a teahouse near a hútòng that dates back to the mid 15th century and stare across the street at the modern headquarters of Google.
Program Dates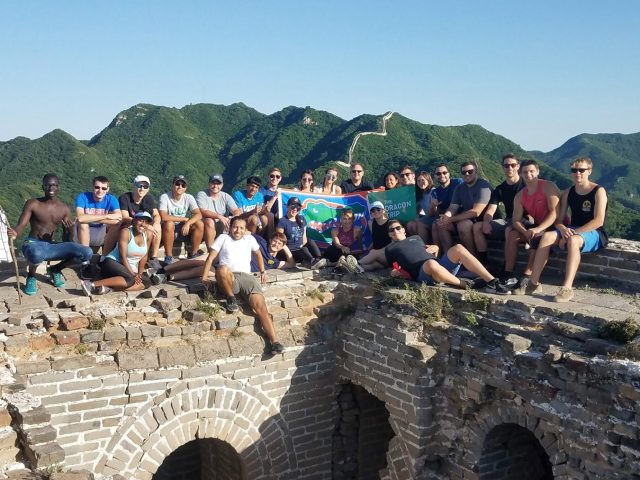 Tentative Dates:
January 30: First round application deadline
February 15: Second round application deadline
March 1: Final round application deadline (pending availability)
March 1: Deadline for all application materials
April 1: Withdrawal deadline
May 6-10: Classes on campus from 11am to 2pm, Monday through Friday
May 24: Arrival in Beijing
May 25-May 30: Beijing culture week activities
May 31: Induction Day & Welcome Banquet
June 3: Company drop-off day and start of internship / Start language course
July 23: Last day at internship
July 24: Return flight to U.S.
Program Highlights and Benefits
International internship experience in industry of interest
Survival Chinese language instruction (1.5 hours of language instruction per week/four weeks)
Great wall overnight camping trip
Cultural excursions (Forbidden City, Tiananmen Square, Temple of Heaven, Summer Palace)
Welcome Banquet with traditional Peking Duck dinner
Social and cultural events including karaoke night, cultural night, and volunteering day
Chinese business etiquette training
Western style accommodations with international interns from around the world
Personalized business cards, certification, and T-shirt
Program Eligibility
Students must have a minimum 2.5 GPA
Students must have a valid passport
Students must submit resume
Students must interview with program director and internship provider
Students must be flexible, reliable, professional, and culturally sensitive
This program is open to students in all colleges and majors. No Chinese language is necessary.
Academics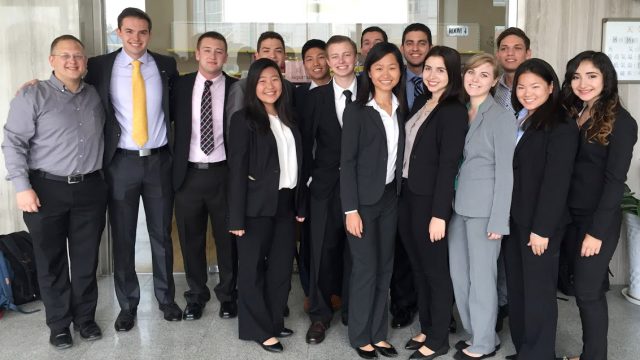 Participating students will complete 6 credits over the course of the program:
GEB 4956: UF in Beijing – Chinese Commerce & Culture (3 credits)
GEB 4941: Internship (3 credits)

Students complete assignments in the pre-departure course and throughout the program
This program satisfies the Warrington internship requirement
This program satisfies the UF summer credit requirement
Program Structure
The nine week course is composed of three parts; Pre-departure research, on-site cultural discovery, and business application. A pre-departure course will take place on the UF campus from May 6 – May 10. Students will learn about China's commerce and culture through lectures and investigative assignments. A cultural discovery week will take place in Beijing, China from May 24 – May 30. During this week, students will experience some of China's most significant cultural treasures, including the Great Wall, the Forbidden City, Tiananmen Square, the 798 Art District and other sites of cultural importance. During the business application portion of the course, running from May 31– July 24, students will integrate what they learned in a two month business internship with a Chinese company located in Beijing.
Program Fee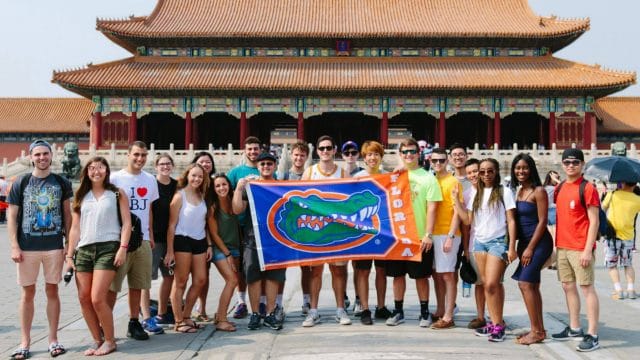 Estimated cost = $7,600
Program cost includes tuition (6 credits), airport pick-up, welcome weekend banquet/orientation, guided tours, transportation and entrance fees for first week, housing, survival Chinese language lessons (6 hours), business and networking seminars, Chinese business etiquette training, international health insurance, a prepaid international sim card, visa processing, 24 hour emergency support, and UFIC application fee.
UF Students may apply Bright Futures, Florida Prepaid and other scholarships toward program expenses.
Other Estimated Expenses:
Airfare: ~$2,000
Visa: Included
Passport: $135 (If not already obtained)
Meals: ~$200
Personal Expenses: ~$500*
*Expenses vary depending on student preferences.
Currency
The currency in China is the Yuan.
Business Internship Experience in Beijing
Students will apply their knowledge of Chinese commerce and culture through a two-month business internship with a Chinese or multinational company in Beijing, China. Students are matched with over 400 companies across a variety of sectors, offering students a breadth of professional opportunities. All companies are visited and vetted prior to hosting an intern and required to comply with western emergency/safety standards. Student interns will have an English-speaking supervisor and be assigned specific projects throughout their internship.
Students will work between 35-40 hours per week during the internship. The experience is designed to help them develop the following learning objectives:
Gain valuable professional skills for career development and enhanced employability
Achieve a cultural understanding of China and Chinese business practices
Prepare students to be global citizens dedicated to social responsibility
Expand social and professional network
Advance Mandarin language skills
Placements: Every effort is made to match students with a sector and company that aligns with their major and interests. Although students are not guaranteed placement in a particular sector, more than 90% of interns are successful in getting a placement within their first sector choice. Placements are available in the following sectors:
Architecture and Real Estate
IT
Business
Legal
Engineering
Logistics
Finance & Accounting
Marketing, PR & Advertising
Green Technology
Media & Creative Industries
Healthcare & Pharmaceuticals
NGOs & Charities
Hospitality
Tourism & Travel
Read UF intern blogs.
Cultural Activities in Beijing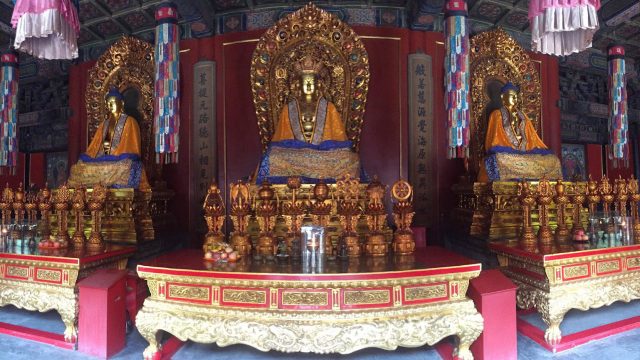 Students will spend their first week experiencing and appreciating Chinese culture through program activities and site visits in Beijing. The following culture week activities are included in the program cost:
Overnight camping trip and barbecue on the Great Wall of China
Guided tour of Tiananmen Square, the Forbidden City, and Jingshan Park
Guided tour of the Temple of Heaven, Beijing Hutongs and Summer Palace
Excursions to the Llama Temple and 798 Art district
Peking Duck Dinner experience
Visit to Chinese market for negotiation experience
Admission to famous Chinese Acrobat Show
Accommodation
Students will stay in a centrally located three-star hotel during the culture introduction week of the program. Students will then move to two/three bedroom shared apartments in the Chaoyang district of Beijing, near the famed 798 Art District. Students will have their own bedroom and share a kitchen, living room and western style bathroom with one or two other students of the same gender. The closest metro station is Jintailu, which is approximately 20 minutes walking distance from the apartments and a short taxi ride away from the partner offices. The facilities include a heated swimming pool, sauna, 24-hour gym, 24-hour convenience store, and bilingual reception staff. Rooms are equipped with a television, water dispenser, washing machine, microwave, kitchen utensils, towels, hairdryer, iron, ironing board, air conditioning, and internet Wi-Fi.
Application Process
Step 1: Submit your candidate materials to Jason Ward via email

Submit a current resume
Candidate materials accepted from November 1-March 1 (rolling admissions)

Step 2: Each student will be interviewed by the Program Director

Students will be contacted to set up an interview between November 1st and March 11

Step 3: Approved students will be notified and complete program applications

Accepted students must pay non-refundable deposits within 10 days of acceptance and complete all application materials prior to the March 1 deadline

Step 4: Students will be interviewed by internship placement office by phone

The internship office will conduct phone interviews with approved students through March 15
Students will receive confirmation of acceptance and information about their internship placement within 30 days of the interview
Students will not be accepted to the program until they submit their resume, submit their deposit and complete all application requirements for UF and partner organization.
Please note that the program has limited placements and may reach full capacity prior to the application deadline. Interested students are encouraged to apply early for best results.

Terms of Agreement
Students assume full responsibility for the cost of the program by April 1. Students on the participant list as of this date become financially obligated. Only in extreme circumstances (e.g., serious personal injury, family emergency, etc.) will a student be allowed to petition to remove him/herself from the list of participants prior to the start of the program. Petitions will be reviewed by the Director of the School of Business.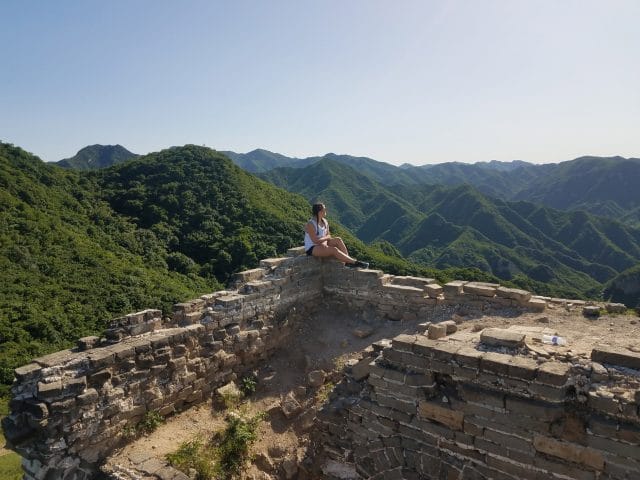 Useful Links